Hello everyone! Can you believe December is already here? I am so excited for the holiday season, I have already put up my lights and decorations. Next weekend I'll be getting my Christmas tree, and I can't wait to decorate it.
I have been looking for a vintage tree topper for a few weeks now. Yesterday Matt and I went to Willow Glen and lo and behold, in the tiniest antiques store, I found the most perfect tree topper. It is a beautiful pearly white with gold glitter detailing.
We then went across the street to
Park Place Vintage
and I found an amazing 60s green wool shift dress. San Jose may have its flaws but it is definitely NOT lacking in amazing vintage and antique stores. Park Place Vintage is a lovely shop in downtown Willow Glen, and I highly recommend it. The clothing was fairly priced and the staff was very helpful. They also host various vintage themed events! Thank you again to Dorian for all of your help!
Afterwards Matt went shopping alone (poo, poo) for my birthday/Hanukkah/Christmas gift. He wouldn't let me see my present, so instead let me open this little gift...
Aren't these the cutest?! My two favorite things: vintage deer and GLITTER!!! Also notice the lovely barf tan walls behind me. Yes, apparently my landlord bought the "sale" paints because every room is painted in the most awful colors ever. Not to mention the horrible job they did: brown paint on the white ceiling, on the white base boards, on the carpet. Fantastic. I'd re-paint, but I'm not sure how long I will be living here for.
In other news, this weekend Matt and I will be going to the San Jose Super Toy and Comic Book Show! I can't wait to meet Miss Yvonne from Pee Wee's Playhouse!!
I hope everyone is having a great December so far! We just posted a bunch of new bows on our
Etsy Store
, please check them out :) Let me know you are a blog reader, and I'll give you a discount!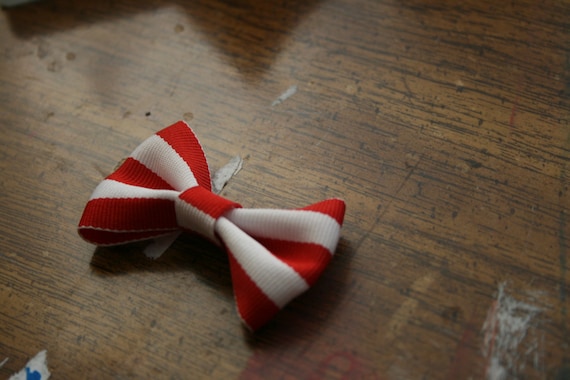 Happy Holidays from Baby Byrd Vintage!